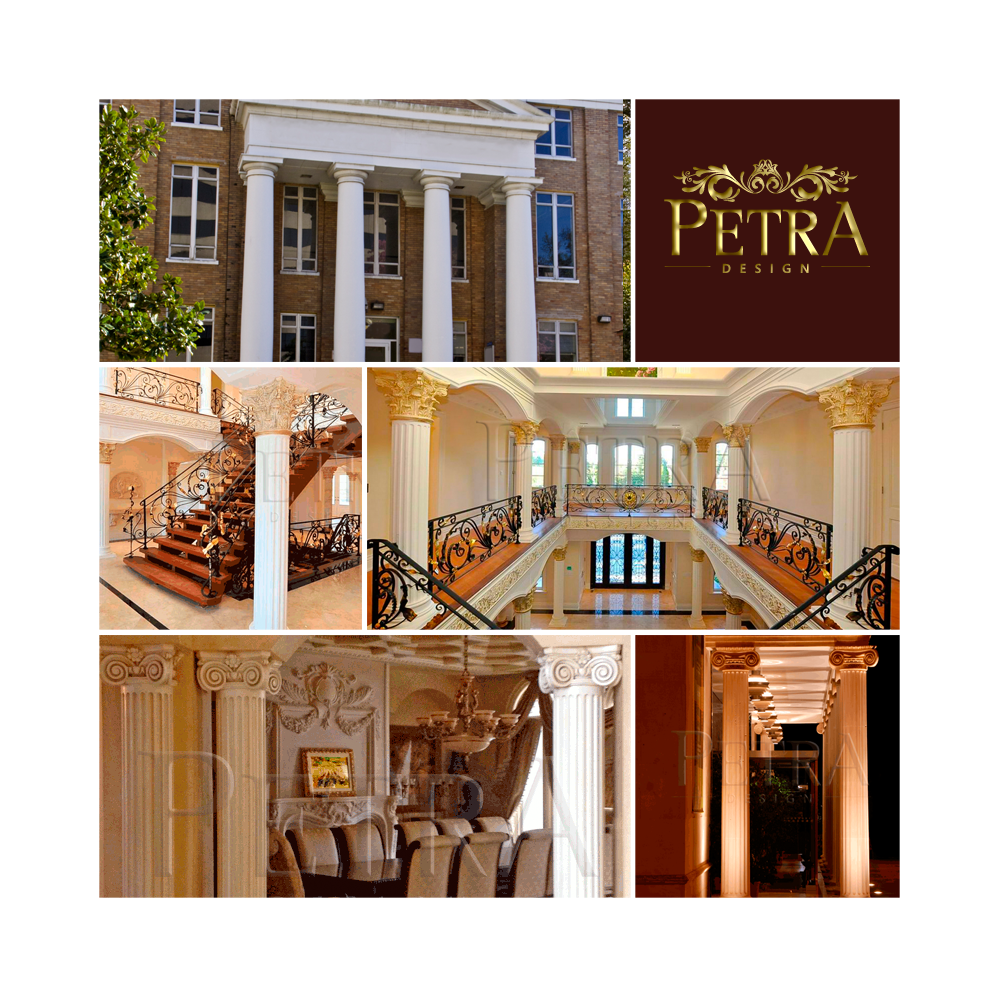 Over the centuries, columns have been known as the most attractive architectural feature. They highlight entrances giving any building the most elegant first impression.Architectural Columns provide a classic and unique addition to any home or project,  Architectural Culomns continued to be the most elegant exterior and interior enhancements .The Egyptians, Persians and other civilizations mostly used Columns for the practical purpose of holding up the roof inside a building,  but the Ancient Greeks, followed by the Romans, loved to use them on the outside as well, and the extensive use of columns on the interior and exterior of buildings is one of the most characteristic features of classical architecture. The Greeks developed the classical orders of architecture, which are most easily distinguished by the form of the column and its various elements. Their Doric, Ionic, and Corinthian orders were expanded by the Romans to include the Tuscan and Composite orders .
Corinthian Columns are the most ornamental of the three orders developed by the Greek, it is characterized by its ornate capitals using stylized acanthus leaves.
Ionic Column is identified by its capital, which includes large paired spiral scrolls or volutes, shaft is usually fluted, but can be plain.
Tuscan columns is a Roman development of the Doric column. Tuscan column is simple with no ornaments, shaft is usually tapered plain, not fluted, set on a simple base with small round capital. On the other hand Doric column is mostly fluted, wider at the bottom and it has no base. The Doric order is the oldest and simplest of the classical orders.
The Composite column draw its name from the capital being a composite of the Ionic and Corinthian capitals. so the distinction is sometimes subtle. Generally the Composite is similar to the Corinthian in proportion and employment.
While these Architectural Correct Columns are perfect to fill any space with classic elegant appeal, our custom architectural  columns also add more flexibility to your design.Our column selections include fluted, non-fluted, tapered, or non-tapered styles, with a range of sizes and different materials to suit your needs.
Cast Stone is a highly refined architectural precast building stone which simulates natural cut stone, more economical than natural limestone , our Cast Stone Columns also come in a variety of textures and colors.
Our GFRC Columns are lightweight, easy to install, very strong, weather resistant, and fire retardant. Petra design's GFRC Columns comes in a smooth paint grade finish that requires a field applied coating or can be supplied with pigments to achieve the look of stone or precast concrete.
Petra Designs Fiberglass Columns are maintenance free addition to your exterior architectural , our Fiberglass columns are cast from the finest industrial materials, Our Fiberglass column resist warping, cracking and deterioration. They also resist salt and water which make to ideal in any weather conditions.Petra design's Fiberglass Column are available as load bearing fiberglass column or easy to install fiberglass column cover .
Petra design columns can be used as Support Columns. Our Columns are stronger and endure more than concrete, steel, or aluminum. These columns convey architectural beauty while providing the strength that you need. Petra Design also manufactures Columns to be used as Column Cover around structural support. Our column covers are available in Corinthian, Ionic, Tuscan or custom designs, designed and manufactured with the highest standard of quality.
Please look at some of Petra Design columns profile by visiting our website at www.petradesign.ca